Product List
AUTOMATED SAMPLING
TOXIC GAS INSTRUMENTS

ACCESSORIES

ADDITIONAL SERVICES

PPM Technology Base Station
With the subject of Indoor Air Quality (IAQ) becoming more prominent and recognised throughout many different industries, it has become essential to be able to accurately monitor low levels of indoor pollutant gases.

The New PPM Technology Base Station has been designed to be a simple to use and easy to set up receiver unit for our wide range of IAQ Profile Monitors. The Unit can be plugged in to the back of an HDMI compatible screen to view real time sensor data from any of our IAQ profile monitors. Sensor data is displayed in a clear and easy to understand format. The instrument will cycle between different pages at a set time, so that you are able to view multiple IAQ parameters from several IAQ Profile montiors connected to the instrument. As many as 10 different pages can be cycyled through at a time frequency stated by the customer. The keeps the interface clean, clear and easy to understand without there being too much information on screen at any given time.

The instrument itself can be Powered by a USB cable plugged in the back at the back of the HDMI screen or alternatively by a mains USB adapter (also included).

Features

Simple to use and set up
Compact size (Dimensions: 121mm x 94mm x 34mm)
Supports up to 10 connected IAQ Profile Monitors
Low power. Powered by USB (5v)
An affordable entry into home IAQ monitoring
Manufactured to ISO 9001:2015 quality standards and compliant to CE regulations.
Features
Low Power (5V Input)

HDMI Interface

Ethernet Connection

The Base Station operates on 5V. This means it can be plugged in to the USB port on the back of a modern TV screen.

Alternatively, the instrument can be powered by mains USB adapter (included)

A large HDMI connector can be found on the back of the Base Station, which can be connected to your High Definition television screen.

This provides a crisp/clear image for viewing IAQ parameter data from connected IAQ Profile monitors

On the side of the Base Station you will find a single ethernet socket. This can be plugged into your home network to upload IAQ parameter data to the cloud for viewing remotely.

You can log in to view data uploaded from the device anywhere in the world.
Compatible with the Nano IAQ Profile Monitor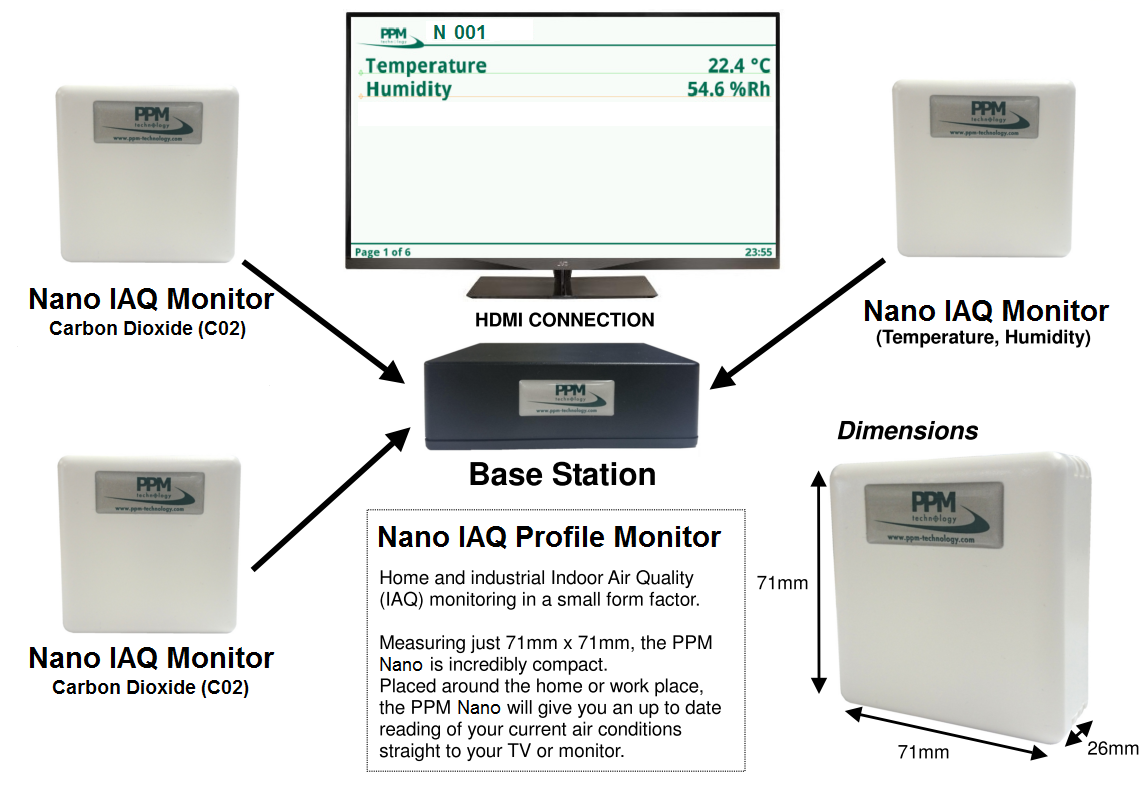 Specifications
Sample frequency
60 seconds

Material
121mm x 94mm x 34mm ABS plastic case.

Weight
200g unit weight
Total kit and accessorie weight 400g
Power
5V Micro USB Input

Connectivity
10/100 BaseT RJ45 Ethernet

Dimensions